[Site TOC]
Guadeloupe
The Civilized Explorer
---
This is The Civilized Explorer Guadeloupe page. We have substantial information on this island, and we hope you enjoy reading about it and seeing our photographs.
NOTE: We have found an excellent book which devotes almost two hundred pages to Guadeloupe. We review it at our PaperView site.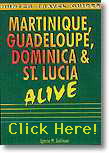 Photographs of the sunny, tropical beaches on the Caribbean islands of the French West Indies
---
For general information on the French West Indies:
For updated information
Please visit the Site TOC (table of contents).
---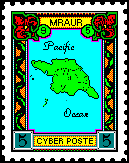 As always, if you have any objections, corrections, suggestions, or questions, drop me a line via Cyber Poste.
The Mraur Cyber Poste stamp is Copyright © 1995 by Jim Felter and is used with his kind permission. For more of his work, please drop by Jas' HomePage.

---
| The French West Indies | The Civilized Explorer |

Search the Site | Get your free Cieux Mail account | Travel Guides |
---