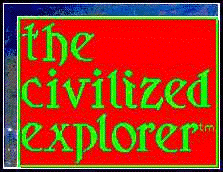 The Civilized Explorer
Guadeloupe - Butterfly of the Caribbean
---

Guadeloupe is a butterfly resting on the surface of the Caribbean. This French West Indies island is made up of two wings that aren't quite connected. The eastern wing is called Grande Terre and is a filled in coral reef; quite flat and with good beaches. The western wing is Basse Terre and is a mountainous island thrust up from the ocean floor by a volcano that is still active - La Soufrière. These wings are as different as night and day.
I had brought my mountain bike. In flat southeastern Pennsylvania, I had bragged to my friends that I could ride it up a VW Beetle. On Basse Terre, I tried to ride the coastal roads around the mountains. I gave up. I couldn't muscle it up the roads. I was very grateful I had a rental car with a bike rack following me. I am also grateful I'm old enough not to be humiliated by all the training bicyclers who passed me.
Bicycling on Guadeloupe is a very big deal. Every year they have the Tour de France of the western hemisphere on Guadeloupe, and the local guys train for it year round. If you like riding a bike and you think you're good, come here. You'll be on well-paved roads, but with no shoulders. All the auto drivers respect you, however, because of the tradition of road racing. On the back roads on the island, you'll see more people working out on their bikes than you will driving motor vehicles.
After giving up on Basse Terre, I had the bike driven back over to Grande Terre. The flat land there is much more like my home turf, and bicycling was a breeze. This split nature may make the island the best bicycling in the world. You really do have it all. In addition to the varied terrain, people pass you yelling encouragement and are genuinely careful around bicyclers on the highways - much different from Pennsylvania where they coast up beside you and honk trying to scare you off the road.
For the nonbikers, no problem. Basse Terre has an active volcano to climb and a jungle to explore. La Soufrière last erupted in the 70's, and it still steams, spits, and stinks. Soufrière means sulfur, and they mean it. Pieces of the volcano fall off the sides every now and then, and sulfurous fumes come smoking out. The hike to the top can take one of three paths. The easiest is not easy. The most difficult is life- threatening and requires an experienced guide. It's easy to get lost on the top of the volcano because it's covered in steam, and you can't see very far. You start out in tropical, steamy heat and climb to the very chilly, extremely windy, foggy summit. Quite a change. For more information and photos, visit our Climbing the Volcano page.
Jungles are called tropical rain forests now. Guadeloupe's has been named a national park and is protected from development. It's trails are well- marked, and the hikes range from quite easy to quite difficult. We asked at the hotel and got brochures in English which described various hikes and their difficulty. As usual, the descriptions of difficulty were subjective - sometimes we totally agreed, and sometimes they were totally wrong.
Bottled water is sold all over Guadeloupe, and it's much better than tap water. We always bought a couple of one- liter bottles to take with us on our hikes, bikes, and swims. You cannot, however, find trail snacks or any similar food on the island. We brought our own. Our guide had been to America, and the only thing he accepted from us was our offer to share the trail snacks. He said it was the only thing he missed from our country. National Park guides are trained for two years and speak English well. If you team up with another couple or so, it's worth the cost to hire one for your first few hikes on the volcano and in the rain forest. They are a wealth of information about the forest and mountains and have a genuine love for their island.
While the mountainous Basse Terre is always shrouded in clouds and often rain, Grande Terre with its lower elevations is almost always sunny and hot. Our hotel on Grande Terre was across the bay from Basse Terre, and we would sit on the beach sipping piña coladas in the sunshine while watching a torrential downpour on the volcano. We have more information on the beaches, along with some photographs to give you an idea of what they look like.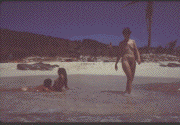 Aside from hiking and biking, there are scuba diving on Basse Terre and interesting snorkeling on Grande Terre, especially at Pointe Tarare, which has a clothing optional beach. Usually the Atlantic side of Caribbean islands is unswimmable with cliffs and crashing surf; much of Guadeloupe's Atlantic side is that way. But Pointe Tarare reaches out and cuts off the heavy waves, and reefs absorb the rest. The beach is sandy and shaded in the mornings, and the cove is full of large rocks and reefs where fish and octopuses hide. One day as I waded knee deep into the water at Pointe Tarare, a small barracuda flashed by about two feet in front of me. I looked down at myself and thought, I wonder what he thinks is bait?
As in all of the French West Indies, the food on Guadeloupe is marvelous. You will find restaurants with full- fledged French cuisine equal to any on mainland France. You will also find many Creole mom and pop cafes with Cajun cooking that'll knock your socks off. Many workers on the plantations on Guadeloupe were brought from India, so you'll also find Indian restaurants (and a Hindu temple on Basse Terre). There is also a large Armenian population with ethnic food for your enjoyment.
A few French phrases will come in handy because not everyone speaks English. In fact, my friend and I usually meet only one or two other native English speakers during a week's stay on the island. We find it helpful to bring a pocket-sized dictionary to translate menus.
With its two wings, the island of Guadeloupe has something for everyone. It was wonderful to spend our days sweating it out in a jungle or on the slopes of La Soufrière (or even on a beach with waiters, let's face it) and then to spend our evenings in a world- class restaurant and our nights in an air- conditioned hotel.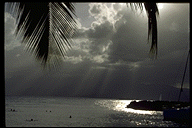 For more information on Guadeloupe, see our contents page.
---
|French West Indies |The Civilized Explorer| Table of Contents |
---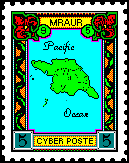 As always, if you have any objections, corrections, suggestions, or questions, drop us a line via Cyber Poste.
The Mraur Cyber Poste stamp is Copyright © 1995 by Jim Felter and is used with his kind permission. For more of his work, please drop by Jas' HomePage.

---
| The Civilized Explorer |

| Site Table of Contents | Portal |
| Help | Search the Site | Copyright, Privacy, and Warranty Information | About us |
---
Some of our pages are presented with light text on a dark background. This makes printing them difficult. If you wish to print a page with your default settings, see if the page has a link at the top called TEXT. If so, follow that link for a printable page.
Thanks for stopping by. Copyright © 1995, 1996, 1997, 1998, 1999, 2000, 2001, 2002, 2003, 2004, 2005, 2006, 2007 The Civilized Explorer. ALL RIGHTS RESERVED.
---