[Table of Contents] [The Civilized Explorer]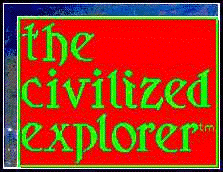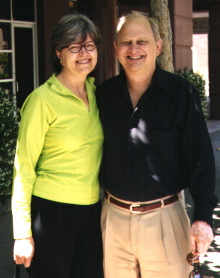 About Us
The shocking, unauthorized autobiography of a couple in love! It was the wrong place! It was the wrong time! With our bad French, we'd gotten the reservations totally wrong!
About Us! Based on a true story.
(Photograph taken in 1999.)

Louise Johnson
About Moi
A scientist by training, I have spent my professional career in a pharmacology lab and in negotiations with the U.S. Food and Drug Administration to gain approval of new drugs. Both of these activities have enhanced my natural inclinations toward anal compulsiveness and information collection. This makes me a good source of addresses, directions, somewhat unusual businesses, and good bakeries.
I'm a terse writer, compared to Phil.
Email via Web form.
Phil Stripling
I am on the left in the photograph above. Or is it the right? I forget.
At the time of this writing, I am in my 50s. I retired from the practice of law in the San Francisco Bay Area. I have contributed articles to the Journal of Taxation, Taxation for Accountants, and other tax- related publications, and I wrote four chapters for the first edition of HTML 4 Unleashed.
I very much enjoy travelling and taking pictures. I have been to Europe several times, seeing Yugoslavia while Tito still ruled, going through Checkpoint Charlie to see East Berlin, and being unable to leave Korfu when Turkey invaded Cyprus (worse things have happened). But Louise and I started going to the French West Indies when we lived on the East Coast of the United States and wanted to get somewhere warm during the long, cold winter months. And those islands are where my heart lies.
My enjoyment arises from the happy convergence of warm weather, warm water, and warm welcome. As we say over and over in our Web pages, the food is divine and the service sublime. The French West Indies have a true touch of Europe with strong influences from Africa and India, their namesake.
While I love our trips to the Caribbean, we have also found time to go to Japan, and we camp in various locations in the American West, including Eureka Valley, home of America's highest sand dune (just north of the better- known Death Valley) and Yosemite National Park. Of course, we also camp every year at Burning Man, an event, a festival, a ... uh, it just defies description. Every year around the American Labor Day holiday, Louise and I and twenty or thirty thousand of our closest friends go to Black Rock, a high desert a few hours north of Reno, Nevada, and camp for a week. Camping has been raised to high art by BM'ers, and civilization has been brought to barren dust -- for a week or two, anyway. It is impossible to describe Burning Man, but I have to say that the people who go are incredible -- artistic, friendly, generous, wonderful folks. For me, and I speak only for myself, the people are the greatest draw to Burning Man.
Email via Web form.
About this site...
How do we do it? Find out About this site... .
---
Copyright © 2000, 2005 The Civilized Explorer. ALL RIGHTS RESERVED. All electrons used in the production of this page are recycled from 100% post- consumer waste. Not sold in stores. Limited time offer. All problems are as is, with all faults, and without warranty of merchantability or fitness for a particular purpose. All solutions are subject to precipitation; avoid supersaturation. The Civilized Explorer is brought to you in Vista Vista and is Internet-ready.