[Site TOC] [TEXT page]
---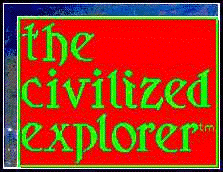 The Civilized Explorer
Naturist Beaches in the French West Indies

---

All the beaches in the French West Indies are top- optional and several are clothing- optional as well. There is no pressure from anyone to go topless or nude; the choice is entirely personal, and no one cares either way. A very European attitude. The following paragraphs give brief overviews of the beaches where nudity is allowed. For more general information about the islands, follow the links. Please note: all photographs were taken with permission.
If you are looking for a clothing optional vacation without the hoopla of a clothing optional resort, we suggest a regular vacation on St. Barth or Guadeloupe, where clothing is truly optional on select beaches and life revolves around the vacation not the nudity.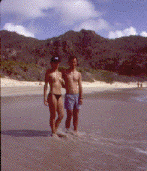 This friendly couple is taking in the sun on Anse de Grand Saline, St-Barthélemy, while on vacation from France. Grand Saline is one of two beaches on St. Barth where people sunbathe and swim nude. (The other beach is Anse du Gouverneur.)
For beginners in the topless or bottomless lifestyle, St. Barth is a good place to start. Both Saline and Gouverneur are long sandy beaches where you can have some sense of privacy by being away from other people. (You can get a sense of this in the accompanying photo.) There are no facilities for food, drink, or restrooms at either beach. Saline has mildly interesting snorkeling at the south end (to your left as you walk onto the beach). Gouverneur has a mild undertow and some wave action if you like playing in the surf. UPDATE 2006: After a few hurricanes, the beach at Gouverneur has been eroded. Getting in and out to swim is somewhat difficult, requiring timing the waves. We find it still worthwhile to visit. A parking lot has been added, and there are more people there lately.
If you want a beach where you can go topless (but not bottomless) and have access to food, drink, and restrooms, we recommend the beach at Baie de St. Jean. The Baie de St. Jean is divided in the middle by Eden Rock. Stay on the south side of Eden Rock (the end of the beach farthest from the runway) to avoid the crowds from cruise ships who stroll the north end of the beach in their street clothes, shoes and all.

Some years ago, St. Barth was the home away from home for the very rich. The islanders made a great deal of money by catering to the whims of their visitors, and (even though the very rich now often go elsewhere) the people of St. Barth still maintain their amicable view of visitors as people to please. St. Barth is much like we think small town America used to be like.
St. Barth is the friendly isle with 22 beaches.
---
Just a little further down the Caribbean is the butterfly-shaped island of Guadeloupe. This island is much larger than St. Barth, and its economy is based on agriculture rather than tourism. We had said earlier that there are very few Americans vacationing on Guadeloupe and that few locals speak English. This is changing, as is the level of service. See our Guadeloupe page for our latest findings. Guadeloupe is becoming friendlier to non- French speakers, and, like St. Barth, all the beaches are topless, and one is clothing optional.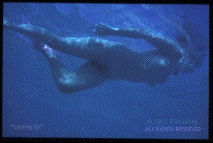 This picture was taken on Pointe Tarare, the only clothing optional beach on Guadeloupe. Pointe Tarare is not easy to find, so watch your map closely. It is on the way to Pointe des Châteaux, which is a recommended visit for the wild surf crashing into the end of Guadeloupe. We have a photograph of the turn off to Plage Anse Tarare, but be aware that the signs change as businesses come and go. Pointe Tarare is a small beach and it is getting smaller as a result of beach erosion, and it's often crowded in the afternoon. If you want some privacy, you came to the wrong island. Tarare has good snorkeling since it's surrounded by reefs. I've seen octopuses, barracudas, cuttlefish, and all sorts of interesting fauna and flora. There are no facilities at Pointe Tarare, though there is a restaurant at the beginning of the path leading down to the beach.

Guadeloupe has Pointe-à-Pitre, a substantial town of some 100,000 people. There is much to see, do, buy, and eat there. Since Guadeloupe does not make its living from tourists, the island has the hustle and bustle of commerce with much more to do at night than St. Barth.
Just off the coast of Basse Terre is the tiny island of Les Saintes. Terre- de- Haut has a naturist beach at Anse de Crawen. It can be reached by a 45 minute walk from Le Bourg (where the ferry docks), or by scooter or mountain bike rented in the village. Unfortunately, Hurricane Luis was less than kind to Crawen, and virtually all the sand was stripped from the beach leaving behind rather large rocks which nude sunbathers lie among. The ocean at Crawen is protected and swimmable. There are no facilities at the beach, but Hotel Bois Joli is a five minute walk up the hill where there is a snack bar and very nice restaurant (and restrooms for the patrons).
Note: Things may have changed for Anse de Crawen. (Or maybe not)
See the Les Saintes page for our lastest update on the nude beach.
Guadeloupe is the island for Civilized Explorers who want lots to do.
As of our visit the end of April 2000, there were naked sunbathers on the beach at Anse de Crawen. We suggest caution, but if others are nude, join in. Be sure to read the update listed above, though -- you may be in for a ticket.
---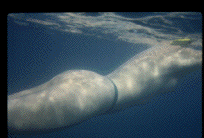 This swimmer is in the waters off the island of Martinique, the home of the cosmopolitan city of Fort de France. It rains every day on Martinique (but briefly), and the vegetation is lush and gorgeous. Martinique is also home to an active volcano, Montagne Pelée , which erupted early this century. We have been informed that a beach near Ste. Anne is clothing optional, and we investigated in April of 1999. Drive to Grande Anse des Salines and turn right at the beach, follow the very rough and narrow lane to where it ends at a barrier. There was a sign for Petite Anse des Salines when we were there; park and walk past the barrier, following the path to the right for a couple of hundred meters. Soon you will see the smaller beach with people on it. We visited on a weekend and on a weekday. Both days there were a couple of men at the far end of the beach with no clothes on. No others were unclothed. We did not think this qualified as a clothing optional beach, but if you want to make a different judgment, drop by and see for yourself. We are aware of beaches accessible only from private land where acquaintances say there is nude sunbathing, but we are not allowed to provide any details. We suggest asking at your lodgings.

Martinique is the cosmopolitan island.
---
See the Civilized Explorer Skin Divers page for JPGs of the pictures included in the French West Indies pages. These JPGs are scanned in at millions of colors and are larger than the pictures in these pages. As you might expect, the photos show naturists au naturel. If you find nudity objectionable, you will not be interested in seeing these photos.
We have very large versions of some of our underwater pictures in an album of Snorkelers. The album also contains some videos. Again, the people are top-free and sometimes clothing- free entirely.
For more information and pictures, visit the French West Indies page.
---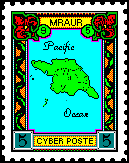 As always, if you have any objections, corrections, suggestions, or questions, drop us a line via Cyber Poste.
The Mraur Cyber Poste stamp is Copyright © 1995 by Jim Felter and is used with his kind permission. For more of his work, please drop by Jas' HomePage.

---
| The Civilized Explorer |

| Site Table of Contents | Portal |
| Help | Search the Site | Copyright, Privacy, and Warranty Information | About us |
---
Some of our pages are presented with light text on a dark background. This makes printing them difficult. If you wish to print a page with your default settings, see if the page has a link at the top called TEXT. If so, follow that link for a printable page.
Thanks for stopping by. Copyright © 1995, 1996, 1997, 1998, 1999, 2000, 2001, 2002, 2003, 2004, 2005, 2006, 2007 The Civilized Explorer. ALL RIGHTS RESERVED.
---