[Site TOC]
Les Saintes
The Civilized Explorer
---
This is The Civilized Explorer Les Saintes page. We have substantial information on this small isle off the shores of Guadeloupe, and we hope you enjoy reading about it and seeing our photographs. We think Les Saintes is a wonderful travel destination for persons seeking a relaxed vacation away from the hustle and bustle of tourism.
NOTE: We have found a book which gives the best coverage we have seen for Les Saintes. We review it at our PaperView site.
Photographs of the sunny, tropical beaches on the Caribbean islands of the French West Indies
The People and Places, Naturist Beaches, boat race, and the Beaches Pages are hosted on dotPhoto.com. iMovie Theatre is on Mac.com.
For general information on the French West Indies:
For updated information
See the Table of Contents.
---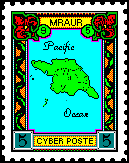 As always, if you have any objections, corrections, suggestions, or questions, drop us a line via Cyber Poste.
The Mraur Cyber Poste stamp is Copyright © 1995 by Jim Felter and is used with his kind permission. For more of his work, please drop by Jas' HomePage.

---
| The Civilized Explorer |

| Site Table of Contents | Portal |
| Help | Search the Site | Copyright, Privacy, and Warranty Information | About us |
---
Some of our pages are presented with light text on a dark background. This makes printing them difficult. If you wish to print a page with your default settings, see if the page has a link at the top called TEXT. If so, follow that link for a printable page.
Thanks for stopping by. Copyright © 1995, 1996, 1997, 1998, 1999, 2000, 2001, 2002, 2003, 2004, 2005, 2006, 2007 The Civilized Explorer. ALL RIGHTS RESERVED.
---