Guadeloupe, the Civilized Island is our opening page on Guadeloupe, one of our favorite islands in the Caribbean. Guadeloupe is home to Pointe- a- Pitre, its capital, and the twin islands of Basse Terre and Grande Terre. With those two islands, Guadeloupe offers two very different experiences. We hope you will enjoy your exploration of Guadeloupe through our Web pages. Guadeloupe is the civilized island. Check the Site TOC for updates.
[Site TOC] [TEXT Page] [Guadeloupe Table of Contents]
---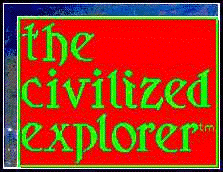 The Civilized Explorer
Guadeloupe - The Civilized Island
---
Civilized explorers spend their days trekking through the tropical rain forests of Guadeloupe and their nights enjoying the culture and cuisine of France.
Your time on Guadeloupe is more than a vacation - It's Civilized Exploration. Guadeloupe is a Caribbean island with tropical rain forests and a volcano, and Guadeloupe is also a departement of France with the language, culture, and cuisine of the continent. You can explore to your heart's content without fear of bringing the ills of the Twentieth Century to the residents of Guadeloupe. On the contrary - the Creole culture will work its magic on you .
So spend your days as a Civilized Explorer sweating on the trails in the rain forest, cooling off in the natural pool below a waterfall, and climbing a volcano with steaming fumeroles. Learn about epiphytes. Photograph wild orchids. Wait under the lush foliage for a heavy rain to pass over. Sail to a small, uninhabited island and snorkel a reef.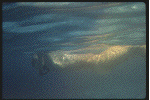 But after the hard stuff, shower in your air-conditioned hotel room. Rest on the palm-lined beach. Go to the outdoor market in Pointe-à-Pitre and buy fresh tropical fruit. Have a drink at a sidewalk cafe. Spend your evenings dining in the air- conditioned comfort of some of the best French and Creole restaurants in the world.
On the civilized island of Guadeloupe, there is no cholera, no malaria - in fact, there are no poisonous animals or plants. You won't be sleeping out in a hammock under a mosquito net in 100-degree heat with 100% humidity. Have you read about rainforest dwellers wrenched from Stone Age hunter-gatherers to Post Modern tourist sites? Not on Guadeloupe. You won't see villagers who have been corrupted by tourism, hawking souvenirs for Yanquí dollars, and doing choreographed "native" dances timed for your tour.

You will see an island which does not cater to tourists. Guadeloupe has an economy built around agriculture, not tourism. As a result, there are no phony celebrations, no hokey costume parties, no theme nights. All that you experience on Guadeloupe will be authentic.
The CIA has thoroughly investigated the island and issued this report, giving much useful, and much useless, information about the island, its geography, people, government, and climate. The United States Weather Service has a report of current weather conditions.
For more information, take a look at the Guadeloupe Fact Sheet. You'll find information on shopping, what to wear, cuisine, nightlife, casinos, beaches, entry formalities, currency, time zone, medical facilities, and a great deal more. We appreciate access to and permission to publish this information. For additional information on the active life on Guadeloupe, drop by the Butterfly page. Drop by the lazy days page for information on low keyed activities -- and see page on Les Saintes, the islands just a few miles of Basse Terre. These are quaint and picturesque islets well worth a visit -- you may find them attractive enough for a longer stay than a day trip. Our last visit to Guadeloupe and Les Saintes was in 2005; see the Guadeloupe Table of Contents.
The European Industrial Relations Observatory has an article on Guadeloupe entitled Tension and disputes in Guadeloupe industrial relations. The number of visitors to Guadeloupe has dropped for several years for a number of reasons given in the article. Accor, the world's largest hotel chain, has announced it will withdraw from all French Caribbean islands. (The article appears to have been published on March 10, 2003.)
The flag we show above is not the official flag of Guadeloupe -- that is the French tricolor. All of the islands in the French West Indies have a number of flags used for various occasions. See our Flags of the French West Indies for links and photos.

Larger Photos Available
Remember that we use small images for our pages in a vain attempt to keep download times reasonable. We have larger jpeg scans available for your viewing please. The People and Places Photo Page has pictures of the islands and the people. People and Places is family viewing. Beaches Photo Page shows people on the beaches, and many of the people are topless; see the Table of Contents for links.
---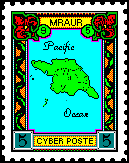 As always, if you have any objections, corrections, suggestions, or questions, drop me a line via Cyber Poste.
The Mraur Cyber Poste stamp is Copyright © 1995 by Jim Felter and is used with his kind permission. For more of his work, please drop by Jas' HomePage.

---
---
| The French West Indies | The Civilized Explorer | Search the Site | Get your free Cieux Mail account |
---