[Site TOC] [quickCheck]
---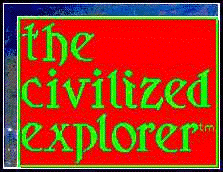 The Civilized Explorer
Cieux Mail
Email Service
---
---
The Civilized Explorer offers free Web-based email service for people who are away from their home or office and need to keep up. Cieux Mail provides spam filtering automatically and allows you to filter yourself. It also allows you to open suspicious HTML email in a protected window to keep your computer safe from some of those nasty viruses. Login here or register for your free account at the bottom of this page.
or
click for your free Web-based email account
If you have not yet registered
Cieux Mail provides free Web-based email which you can use from anywhere you have access to a Web browser on a computer connected to the Internet.
You can set this account to notify you of email at another email address or via ICQ. Set up your contacts and send them email, ICQ, and even page them with the click of an icon. You can also use this account to read your email from your POP account while you are on the road and unable to log into your regular ISP to check email. You can set your account up in the language of your choice, if English is not your cup of tea. Cieux Mail offers ten languages.
This system allows you to filter your email for spam. It defaults to blocking email from known spammers (whoever they are); you can also set it to accept email only from known senders or to block email from specified senders. You can also choose to view HTML messages in "safe" mode. You can set up a contact list, set the server to send a "vacation" message when you are away for a length of time, and you can add folders for incoming email and have messages put there for you automatically by setting a rule for the sorting program. It even has a spelling checker which works in any of the ten languages.
The account is free because ZZN asks certain demographic information from you and then targets an ad just for you at the bottom of your browser window.
Email sent with this system puts the following lines at the end of each message:


Get your Free E-mail at http://cieux.zzn.com
___________________________________________________________
Get your own Web-based E-mail Service at http://www.zzn.com

---
The Civilized Explorer Calendar
We now offer a Web- based calendar that you can access from any Internet connection with a recent graphical browser. The calendar is run by eCalNOW.com and offers file storage, email, contact management, a to-do list, and synchronization with Outlook and Palm- based organizers. The site offers a searchable database of sports and entertainment events, movie release dates, weather, news, and considerably more. Sign up is required for use, and the calendar displays ads. You can upload a maximum of 20 MB of files online and keep track of your appointments, contacts, and to-do lists while abroad.
Drop by The Civilized Explorer Calendar and sign up.
---