[Site TOC]
---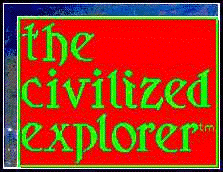 The Civilized Explorer
Guadeloupe Cyber Cafes in 2005
Into each life some rain must fall.
---
We found three locations with Internet access on this trip, although we are certain there are others. One is located at the wharf in Pointe a Pitre, and the other two are in St. François.
@rospeed
We have a guess this is pronounced 'arrowspeed,' but we have no reason to guess that. This store is quite professional and offers copying, telephones (you need a prepaid card which they also sell), secretarial services, as well as ADSL internet connections. Prices were 3 euros for 15 minutes, 5 euros for 30 minutes, 7 euros for 45 minutes, and 9 euros for an hour; "crew members" are offered a 25% discount. (@rospeed is on the wharf where cruise ships dock.)
@rospeed is in Pointe a Pitre at the harbor and offers the most computers of the three access points we discuss here. It also has the most competent help available.
L'@robas
We will guess this is L'arobas in real life. But who knows. We counted three computers, and the rates were 1.90 euros for 15 minutes, 3.50 euros for 30 minutes, 6.50 euros for 1 hour, 11.50 euros for 2 hours, and 16.50 euros for 3 hours. A month's unmetered access goes for 40 euros. L'@robas is on the marina in St. Francois. Help is from the waiter or waitress who most likely has seen the computers before, but that's about it.
Le Bistro
Le Bistro is at the traffic circle where Avenue de l'Europe crosses Rue de la Liberté, the road out of town at the golf course. There were four computers. Help depends on who is there. If it is Mohammed, you are in luck, as he waits tables and performs as sysadmin. We needed a FireWire connection to upload our photos from a FireWire CF card, and there were only USB ports on the Windows computers. Our first attempt was with the waitress, who knew only what to charge. Our next try was when Mohammed was there, and he said if we had our laptop, he could just plug in the RJ-45 connector for us, putting our iBook right on the line. We happily complied, and he watched over us, making suggestions based on seeing other Mac- users connect. We soon had the iBook transferring files just as if we were at home on our Airport WiFi connection. We had a couple of Punch Cocos and a pan au chocolat each as we waited for the uploads to finish, checked our email, and posted a report to A Travelog for Guadeloupe and Martintique.
Fees at Le Bistro are 2 euros for 15 minutes, 6 euros for 1 hour, 30 euros for 6 hours. Hours are from 7:00 am to 8:30 pm daily except Sunday.
Les Saintes
There is a small cyber shop in Le Bourg, almost literally a hole in the wall just across the street from the original pier. This small room has two computers, and the owner has kindly provided QWERTY keyboards for Americans who visit there. (The three places listed above have French keyboards which make it impossible for QWERTY users to touch type.) His rates are 2.50 euros for 10 minutes, 4 euros for 20 minutes, 6 euros for 30 minutes, 10 euros for an hour, and 18 euros for 2 hours. The shop will also burn photo CDs directly from your CF cards. The sign outside the shop says INTERNET. Connection speeds are slow; we assume modems connected to plain telephone lines, but this is Les Saintes after all.
---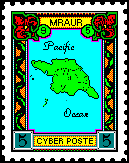 As always, if you have any objections, corrections, suggestions, or questions, drop us a line via Cyber Poste.
The Mraur Cyber Poste stamp is Copyright © 1995 by Jim Felter and is used with his kind permission. For more of his work, please drop by Jas' HomePage.

---
| The Civilized Explorer |

| Site Table of Contents
---
To view or print this page with your default settings, choose TEXT page at the top of this document.
SEARCH The Civilized Explorer Web Site.
Thanks for stopping by.
Copyright © 2005 The Civilized Explorer. ALL RIGHTS RESERVED.
---