[Table of Contents] [The Civilized Explorer]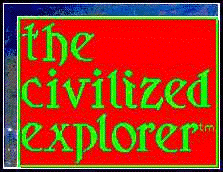 Tag Cloud
The Internet is evolving, and we are evolving with it. The Web has never been linear; you never picked up a Web site and read it straight through like a book. But it's becoming even more random, and Web authors are yielding ever more control over how the content is viewed.
This page gives control over to you overtly and explicitly. We are still under construction here, but we provide you with tag clouds, geotagging, and searches which were heretofore not possible before the advent of LAMP and AJAX. The files may be geotagged, and you can generate .kml files for Google Earth from the Tagzania and smugmug links. Tagzania and smugmug also provide an RSS feed so you can keep posted as we add information to our maps.
One issue is that sometimes these sites go down, so our links and clouds and tags are lost. Even less control. Another problem is the length of time it may take to get all this stuff generated off-site, then displayed here. That first sentence has come true with a vengeance. We had all our French West Indies tags on Ma.gnolia, and it suffered a catastrophic failure of all data. Not even the backups were useable. See one of several reports at Data Center Knowledge.
---
This is our photo "tag cloud" from del.icio.us. Click on the the heading below to see our entire list of links to photo pages with descriptions or click on a word for the list of links to photo pages using that tag. The bigger the word, the more links with that tag. Note that the link is not to the photos but to the list of URLs that are tagged with that word. You may choose what to view based on the description. del.icio.us does not allow spaces (even with quotes), so if there are two or more words, we have mashed them in a way we hope you can interpret. Explore. (Sometimes delicious is down for maintenance, so if the cloud is not here, we are sorry but it is not in our control. See their blog for updated downtime information. You will need to clear your cache if they are back online, but the cloud does not appear immediately below this line.)
We also have links to maps of the French West Indies at del.icio.us
---
Tagzania is a Web site that generates maps with clickable pointers. All our tags are at user/philip if you want to avoid delays in downloading maps and go straight to the descriptions. Tagzania allows you to subscribe to an RSS feed to get updates in your favorite newsreader as we add information to the maps; click the RSS tag at the bottom of the page. For Google Earth, pick the page with the map you want to run in Google Earth and click the KML tag to generate a .kml file. We have some beaches on Tagzania linked to 360-degree panoramas; other locations are mapped to photos and videos -- look for the paperclip icon in the listings.
St. Barth
Here's our St. Barth map; as of June 2006 we show beaches, ATM machines, gas stations, the tourist office, and shopping centers. Some beaches are linked to 360-degree panoramas. We have restaurants mapped on our ning page.
Click the plus sign to zoom in, and the arrows to scroll left or right. Click an icon for more information. Click the enclosed link to Tagzania to get to our full page of tags on their server, which has brief descriptions of each beach and more tags. Explore that page as well, and click the "related tags" link to combine tags and winnow your results. Clicking on the KML icon will generate a Google Earth text file for you.
For images of maps of St. Barth see St. Barth Access: island, Gustavia, St. Jean. Opening the island map in a new window and comparing that to the satellite image will give you some idea of locations and roads on the island. For a road map of St. Barth, follow this link to trigger an immediate download of a 722KB .pdf file. The map's dimensions are huge, so if your .pdf viewer scales the map to fit your window, you will lose all the detail. Zoom in to actual size to see streets in Gustavia and all the roads over all the hills and dales of St. Barth, plus the names of all those outlying islands.
For a very detailed map of St. Barth that you can load into your Garmin GPS, drop by Maps for Garmin GPS Receivers. You will get a huge map of the entire Caribbean. For a Points of Interest file of our February 2006 trip to St. Barth, drop by http://www.cieux.com/StBarth2006.gpx; clicking this link will download a small XML file to your browser. Save it and transfer it to your GPS.
Martinique
This page would take too long to download if we put all the maps on it, so here is the link to our Tagzania map of Martinique, with further links to beaches, towns, and shopping. Give it a few seconds (well, several) to load the map, then zoom out -- we cannot keep it from displaying at too high a zoom. The map is current as of February 2008.
Our Ma.gnolia link roll of recent finds for Martinique:
Nightmare come true: Magnolia suffered a catastrophic loss of data.
Guadeloupe
Here's our map of Guadeloupe. We list many towns and beaches and, again, you have to zoom out to see anything meaningful on the satellite image. It is current as of our visit in 2006.
Our Ma.gnolia link roll of recent finds for Guadeloupe:
Nightmare come true: Magnolia suffered a catastrophic loss of data.
---
Ning allows us to have interactive restaurant reviews. Drop by and rate the restaurants on St. Barth, and add your own reviews. Zoom in on the map and see how close we got to where the restaurant actually is.
---
We have videos and photos on Sumgmug. Some of our photos on Smugmug have been geotagged. Additionally, Smugmug allows searching by keyword and multiple word searches. See our keywords page and click on the ones you want to see. Geotag gives you our geotagged photos and the links to St. Barth, Guadeloupe, and Martinique show photos of those islands, but note that not all keywords are related to the French West Indies -- we have other photos on smugmug. When you click on a keyword, the resulting page shows photos and lists related keywords, which you can combine with your current search. Pages which are not generated by keyword search have a Google Earth icon to generate .kml files so you can place the photos' locations. Have fun!
---
Magnify
We have an account at Magnify at civex.magnify.net where Magnify searches the Web for videos relating to the French West Indies; as you may expect, some of the videos show top- free women; some are snagged becasue of misleading tags, so browse for the Bucket Race at St. Barth, zouk on Martinique, and so forth, but be aware that there are some extraneous clips. Nine recent finds are shown below:
The advantage of Magnify is that we can "host" the vdeos of others off our site, so in addition to links to other pages as we do in Magnolia and delicious, we can provide you with links to other peoples' videos, too.
---
We use our Tumbler account to aggregate most of our feeds offsite to keep traffic down. Tumblr shows our latest posts on our various Web locations.
---
You may click on the button and open a mini-version of this page to keep the map, tag cloud, links, and so on in view while you continue browsing in your regular browser window. (If you find the bitty window a little too bitty, you may drag the lower right corner to re-size it.)
You may also embed a bitty browser view of this page in a page of your own with the following button, which gives you the HTML markup to paste into your own page:
---
Miscellania
We have links to online maps at our cleverly-named Maps Online page. An indexed map of the Caribbean is located on GPS PasSion at this link (which triggers an immediate download of the image file and .ini text file).
Copyright © 2005, 2006, 2008, 2009 The Civilized Explorer. ALL RIGHTS RESERVED. All electrons used in the production of this page are recycled from 100% post- consumer waste. Not sold in stores. Limited time offer. All problems are as is, with all faults, and without warranty of merchantability or fitness for a particular purpose. All solutions are subject to precipitation; avoid supersaturation. The Civilized Explorer is brought to you in Vista Vista and is Internet-ready.