[Site TOC] This page is
http://www.cieux.com/maps.html

The Civilized Explorer Maps Online
Your Guide to Online Mapping Services
Online maps are abundant in the world wide World Wide Web, and we list here a few of the more interesting ones. Being on the bleeding edge, some of these resources do not work with every browser, so know before you need it what browser you can use.

Find your way, find your latitude/longitude. It does not work for every browser. For our review, we picked Fartus, Iraq, a portent of things to come, it turned out. The map was a basic beige with some blue lines and a circled plus sign labelled Fartus. No context whatsoever. Zooming in and out finally enabled us to locate Fartus in the area near the more nearly well- known Basra. On a happier note, we were able to zoom in on streets in Fort de France, Martinique, and Pointe a Pitre, Guadeloupe. The system is rather slow as it redraws each map, but the detail (when there is detail) is very nice.
The latest in mapping technology using XHTML, but it does not work for every browser. Google is interesting on two counts: first, it allows you to enter such queries as "hotels near lax," and "90210 to 19010" and get a response rather quickly. Second, the quality of graphics and speed of presentation are remarkable. Typing in an address gives you a little pushpin graphic and a floater window with links for directions 'to here' and 'from here.'
This service provides maps of the entire world. It requires quite a bit of clicking to drill down to Fartus, but you may set your default country, simplifying your later quests. This kind of interface also requires that you know where the place you want to find is. If you do not already know where in Iraq Fartus is, you will not be able to find it by clicking. Fortunately, you can type in a country, then a town and have it pointed out on the map for you. You also get the latitude/longitude. (We clicked on the "book hotels" icon, but the nearest lodgings were 250 miles away in Kuwait City.) Some locations have aerial photos available as postcards, digital images, and prints. In addition to lodgings, there are links to nearby restaurants (nearby being a relative thing, as noted in our experimental attempt to secure lodging), transportation tickets, and maps.
The interesting thing about this site is that you can customize a map online and save it for later viewing or order a map to be sent by mail. In addition to the usual street maps, National Geographic offers topographic maps, which many find necessary for their trips, and conservation maps. When you find a map you like, you can customize its appearance and save it for later viewing -- and the map will be updated if there is dynamic content (weather and earthquakes, for example).
An old hand at road maps, Rand McNally is online in a big way. You can get travel directions, buy paper maps, and have maps sent to your cellphone, if it is a "qualified handset." Rand McNally distinguishes itself with real- time information on traffic accidents and congestion, road closures, weather conditions, and concerts and sporting events that cause traffic jams -- all sent to your cellphone. You can also plan and save a road trip online, print out an 'express map' of some cities (customized to your liking), and the inevitable more. Typing in SFO, for example, gives us a map of the ramps leading off and on 101, along with the lanes to the different terminals.
The world's online topographical maps, plus shaded relief maps, 1-meter aerial photos, and street maps. This is not a free site -- annual memberships are US$50. There is a free demo registration. Topo maps are available as 1200 x 900 pixel images, and original USGS topo maps are available as free downloads for 'Pro' subscribers. Additionally, members can get aerial photos with street map overlays and topo maps with aerial photo overlays. This is an excellent resource.
Links to sites which provide access to USGS data. Some of the sites are free, and some are commercial.
Map server offering views of USGS topo maps, aerial photos, NOAA nautical charts, and various accessories for the traveler, including programs to run navigation aids on your PDA.
Okay, so this is not exactly an online map, but sometimes you need to find a car repair service, or a pizza shop when you are out of town. Just go to this page, type in what you are looking for, then the town and state, and click the search button. Up pop several links to stores that do not pay to be included (at least not at the time of this review in February 2005). You get a list and a map keyed to your list, along with links to the stores' Web sites, if any.
You can plan a trip with extensive annotations, but driving directions are not currently available. Save your trip with maps, hotels, restaurants, and things to do. In addition to notes, you can save keywords to make searching your notes easier. The trip is saved online with Yahoo, so you can view it from any computer with Web access, or you can print it and take the paper with you.
Satellite images, aerial photos, and maps. This is a commercial site that wants to sell you the picture, but you can look up locations by address or latitude/ longitude and see the photo, zooming in to the particular house in many cases. Online imagery is heavily watermarked to discourage theft, but you can subscribe and get unwatermarked browsing and discounts on prices.
| The Civilized Explorer | Table of Contents | The French West Indies | Travel Information |
---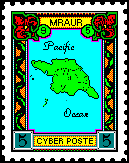 As always, if you have any objections, corrections, suggestions, or questions, drop us a line via Cyber Poste.
The Mraur Cyber Poste stamp is Copyright © 1995 by Jim Felter and is used with his kind permission. For more of his work, please drop by Jas' HomePage.

---
Copyright © 2005 The Civilized Explorer. All rights reserved.