[Site TOC]
| St. Barthelemy | Guadeloupe | Les Saintes | Martinique | General Information |
---
The Civilized Explorer
The French West Indies - Table of Contents
Welcome to the Internet's most nearly complete information source on the French West Indies, particularly St. Barth, Martinique, and Guadeloupe. You will find information about beaches, restaurants, activities, and places to stay, with photographs and links to maps, satellite pictures, and other resources.
---
General Information on the French West Indies
(For information specific to each of the islands, follow the links at the top of this page.)
Photographs of the French West Indies
For our book reviews on Caribbean travel guides, see PaperView -- we have found some gems.
---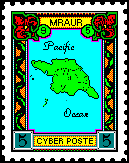 As always, if you have any objections, corrections, suggestions, or questions, drop us a line via Cyber Poste.
The Mraur Cyber Poste stamp is Copyright © 1995 by Jim Felter and is used with his kind permission. For more of his work, please drop by Jas' HomePage.

---
| The Civilized Explorer |

| Site Table of Contents | Portal |
| Help | Search the Site | Copyright, Privacy, and Warranty Information | About us |
---
Some of our pages are presented with light text on a dark background. This makes printing them difficult. If you wish to print a page with your default settings, see if the page has a link at the top called TEXT. If so, follow that link for a printable page.
Thanks for stopping by. Copyright © 1995, 1996, 1997, 1998, 1999, 2000, 2001, 2002, 2003, 2004, 2005, 2006, 2007 The Civilized Explorer. ALL RIGHTS RESERVED.
---
Our blue buttons are courtesy of Eos Development, which offers images for your free use.