[Site TOC]
St-Barthelemy
The Civilized Explorer
---
St. Barth is a tropical island of the French West Indies in the Caribbean Ocean. This our table of contents for the St. Barth section of The Civilized Explorer.
NOTE:
An embarrassment of riches. Where once we had only one book we thought a worthy guide, now we have three. Our favorite travel guide to St. Barth is St. Barths Alive!, a volume which covers both St. Martin and St. Barth, and we review it on our
PaperView site
. There is another book out called
Case et Cuisine
, which really knocks our socks off. And we now have
Paradise Found
, fascinating stories of the owners and chefs of a dozen and a half of the fabled restaurants on the island.
Our visit in 2006
Our visit in 2003
Our visit in 2001
Our visit in 1997 (note that things improved -- see 2001)
Additional Information
Our delicious link roll for our St. Barth photos:
There are a couple of discussion groups for St. Barth. Take a look at SBH Journal, which has travel reports and tips from people who have been going there for many years. For answers from a smaller group, try St Barts Talk.
For general information on the French West Indies:
---
Be sure to check the Table of Contents for updates, including more recent photographs.
NOTE: Change in telephone numbers.
As of July 2001, international telephone numbers in St. Barth changeed. The country code remains 590, and all numbers have another 590 added to them. This is confusing, so here is an example:
A telephone number which was earlier listed as (590) 27.71.90 has become (590) 590 27 71 90.
By the way, if you see a number beginning 690, that is a cell phone.
---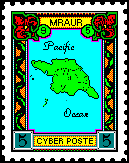 As always, if you have any objections, corrections, suggestions, or questions, drop me a line via Cyber Poste.
The Mraur Cyber Poste stamp is Copyright © 1995 by Jim Felter and is used with his kind permission. For more of his work, please drop by Jas' HomePage.

---
| The French West Indies | The Civilized Explorer |

Search the Site | Get your free Cieux Mail account | | Travel Guides |
Copyright © 2003, 2004, 2005 The Civilized Explorer. All rights reserved.
---