[PaperView(tm) Table of Contents] [The Civilized Explorer Table of Contents]


Case et Cuisine
Other books will be written about St. Barth, but this one will be tough to top -- it's one of the most attractive books I've seen, a proper guide to the civilized exploration of St. Barth.
---
Review by Phil Stripling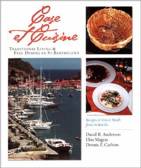 This is one of the most attractive books I've seen. Written by Elise Magras, Dennis Carlton, and David Anderson, and designed by Kathy Lay-Burrows, Case et Cuisine, with the emphasis on cuisine, demonstrates the art of dining on the little island of St. Barthelemy in the French West Indies. The layout, type faces, and design of the book are wonderful. Because the book has a unifying theme, it hangs together much better than other photo books I have. And Lay- Burrows has somehow managed to lay the text and photos out so that each page turns smoothly into the next, much as each day on St. Barth turns smoothly into the next until it is time to go.
It was a real treat to see restaurants that have disappeared into the eyes of hurricanes and other storms (Vincent Adam and Chez Francine, for example) given the loving attention they still deserve. Long-time visitors will remember many photos of restaurants from ten or twenty years ago; the authors include menus of memorable meals (often with reproduction of the receipts) starting in 1985. Newer or first-time visitors will find the book a very helpful guide in planning their culinary stay on St. Barth, an island where dining is an art.
The book is a hundred or so pages long, with about a hundred and fifty photographs. At eight inches by ten inches, the book shows the full-page photographs to great advantage, while not slighting the smaller images shown several to a page. The typefaces are very attractive, and I wish there was a colophon to tell me about them and the design process Lay-Burrows used.
Food is a glorious experience on St. Barth, and Dennis Carlton (credited for the photography) shows it off to great advantage: langouste, swan profiteroles, banana tatin tarts. Several chefs have provided recipes for us. Well, for you.
In addition to the photos of the restaurants, their foods, interiors, logos, and staffs, the book has photographs of many of the cases and their environs. Gardens and even clothes hanging on the lines brought back the smells and sensations of warm breezes wafting across bare skin during the year-long summer of every short visit.
Because of its theme and layout, this book is much more than a collection of beautiful but disparate photos clumped between covers. Not only is it a trip down memory lane, it is a guide to future explorations of adventures in dining on the little island of St. Barth. Highly recommended.
---
Case et Cuisine is available through St. Barths Online, which has more information and photos of the lovely book. You may order directly through PayPal, by telephone, or by email. Or better yet, pick up a copy of the book at Funny Face in Gustavia.
If you have comments about or additions to this review, please drop us a line by selecting the envelope for forms- enabled browsers or our names for mailto- enabled browsers. We will assume the comments are to be posted to our comment section unless you tell us otherwise; email addresses will not be posted.

PaperView(tm) is a trademark of The Civilized Explorer. Copyright © 2003 The Civilized Explorer. ALL RIGHTS RESERVED.
The Civilized Explorer [PaperView(tm)] or [Site Table of Contents]