[PaperView(tm) Table of Contents] [The Civilized Explorer Table of Contents]


Paradise Found
A large book about the restaurants and dining on St. Bart. The book includes recipes -- you can take it home with you!
---
Review by Phil Stripling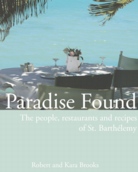 Paradise Found ("The people, restaurants, and recipes of St. Barthélemy") is by Robert and Kara Brooks, longtime visitors to St. Barth. The book is quite large, with over 225 pages filled with photos of restaurants, owners, and chefs of most of the restaurants on the island. More important, the book has recipes which have been re-crafted so that we Americans can find the ingredients and use non-metric measurements to cook up some of our favorite recipes from the friendly island of our dreams. There is also a resource section if your local vendors do not have some of the more exotic items. The authors have asked the chefs of eighteen restaurants to prepare dinner menus and share their recipes -- over seventy in all. Louise and I have been looking particularly at the desserts, me at the tarte tatin and Louise at the chocolate fondant.
The Brookses offer interesting details on the backgrounds of the restaurants and their owners, information we have not found elsewhere. If you visit the island regularly, this book will better acquaint you with the people behind the fabulous restaurants on St. Barth -- their stories alone are worth the price of the book. If you know the owners and chefs, you can re-visit them during the long winters of your absence from St. Barth, smiling at Andy Hall, English owner of the Hideaway, presenting his recipe for California Pizza on St. Barth.
The photography (all but one photo is by the authors) is excellent. Food photography is difficult, and they have done a wonderful job showing the dishes to great advantage. There are 140 photographs of food, people, vistas, and enchanting little details around the restaurants that bring you back again to this civilized little home away from home. Paradise indeed. Recommended.
---
Paradise Found is available through SBH Journal, which has additional information, photos, and excerpts from the book.
If you have comments about or additions to this review, please drop us a line by selecting the envelope for forms- enabled browsers or our names for mailto- enabled browsers. We will assume the comments are to be posted to our comment section unless you tell us otherwise; email addresses will not be posted.

PaperView(tm) is a trademark of The Civilized Explorer. Copyright © 2003 The Civilized Explorer. ALL RIGHTS RESERVED.
The Civilized Explorer [PaperView(tm)] or [Site Table of Contents]