[Site TOC]
---
WELCOME TO

Fact Sheet on St. Barthélemy -- 1995
---
NOTE: Change in telephone numbers.
As of July 2001, international telephone numbers in St. Barth will change. The country code will remain 590, and all numbers will have another 590 added to them. This is confusing, so here is an example:
A telephone number which is listed below as (590) 27.71.90 will become (590) 590 27 71 90.
Location/Size/Population
Location: St. Barthélemy (or St. Barts, as it is affectionately known) lies 125 miles northwest of Guadeloupe, and 15 miles southeast of St. Martin.
Size: The total land area is 8 square miles.
Population: 5,043 (1990 census)
Capital: Gustavia
Government
St. Barts is a dependency island of Guadeloupe, which in turn is an Overseas Department and Region of France. As such, St. Barts participates in French elections. It has its own mayor, who is elected every seven years, a town constable, and a security force consisting of six policemen and 13 gendarmes. The latter are sent from France on tours of duty lasting two years. St. Barts and neighboring St. Martin comprise a Sous- Préfecture of Guadeloupe, which is administered by a Sous-Préfect who resides in St. Martin and has a representative on St. Barts.
Language
French is the official language and the type spoken by St. Bartians is a quaint Norman dialect. Much of the populace speaks English, however, and there is seldom a language problem at hotels, restaurants, shops, etc.
Brief History
The historical significance of St. Barts is far out of proportion to its tiny size. Discovered by Columbus in 1493 and named for his brother Bartolomeo, it was settled around 1648 by French colonists who were living on the nearby island of St. Kitts. This early settlement did not prosper and in 1651 the island was sold to the Knights of Malta. Five years later it was raided by the fierce Carib Indians, then abandoned until 1673, when it was again settled by Frenchmen from Normandy and Brittany. This time the colony was successful and the source of much of the prosperity were French buccaneers who swarmed to the island, bringing with them for many years vast quantities of plunder taken from Spanish galleons. Monbars the Exterminator, a famous buccaneer, reputedly maintained headquarters in St. Barts and his treasure is believed to still be hidden among the coves of Anse du Gouverneur or buried in the sands of Grande Saline.
While many of the people of St. Barts were tradesmen and shopkeepers, others maintained farms. They were essentially small individual farmers, however, and the island never became converted to the sugar economy of the larger islands.
Except for a brief takeover by the British in 1758, St. Barts remained French until 1784 when it was sold suddenly to Sweden by one of Louis XVI's ministers in exchange for trading rights in Gothenburg. While the permanent population continued to till the soil, the Swedes took over, renamed the harbor Gustavia, in honor of their King, declared it a neutral and free port, and made fortunes in trade. When Europe's wars subsided, France repurchased the island in 1878, but this time there was no more trading with warring nations, and little agriculture to speak of,. The free port status remained, and does to this day, along with such Swedish mementoes as a bit of architecture, a cemetery, a couple of street signs, and, of course, the name of the harbor and capital, Gustavia.
Unique Characteristics
St. Barts is the only island in the Caribbean with some stains of Sweden in its blood. A few Swedish legacies endure, but most of the people are French-speaking descendants of the first Norman, Breton and Poitevin settlers. They are industrious, spiritual, and soft-mannered. Lacking agriculture and industry, the men have taken to the sea and are considered superb sailors. The older women still wear the white sunbonnets seen in the French provinces their ancestors came from. Many pad about barefoot and spend their days weaving straw hats, straw baskets, and similar items for tourists.
The island offers the best that money can buy in the way of peace and quiet, scenery, nice people, French food and wines, and idyllic sun, sand and sea. There are small green mountains, meadows marked with low stone fences, pristine beaches and sandy coves, and a smattering of near little villages, Gustavia, the capital, is an impeccable picture-postcard town and looks like the setting for an operetta. Its harbor, busy with yachts, boats and schooners, is one of the safest in the Caribbean.
Climate
St. Barts has an ideal dry climate and an average temperature of 72 degrees to 86 degrees Fahrenheit.
Taxes and Service Charges
There is an airport departure tax of 10 francs to the French side of St. Martin or Guadeloupe, and 15 francs to other destinations. Most hotels include tax and service charge in their quoted room rates; others add from 5% to 15% to the bill. [By French law, service charges are included in your restaurant bill -- Confirm that your bill states "Service Compris" at the bottom. If it does, your tip has been included in the final bill. The Civilized Explorer.]
Entry Formalities, Immigration Documents and Vaccination Certificates
For stays of up to three weeks, U.S. and Canadian citizens traveling as tourists must have proof of citizenship in the form of: a valid passport; or one that expired not more than five years ago; or other proof of citizenship, i.e., birth certificate (original or official copy) or voter's registration card accompanied by a government- authorized i.d. with photo.
For stays over three weeks, or for non- tourist visits, a valid passport is necessary. Resident aliens of the U.S. and Canada, and visitors from countries other than those of the Common Market (E.E.C.) and Japan, must have a valid passport and visa. A return or onward ticket is also required of all visitors.
No vaccination papers required unless arriving from an endemic area.
Tourism Statistics
In 1993, St. Barts airport welcomed 83,058 passengers, compared to 58,941 in 1992, or an increase of 20%. In addition, 112,502 boat, yacht, and cruise ship passengers visited St. Barts in 1993, compared to 100,285 in 1992, or an increase of 12%.
Customs Regulations
Items for personal use (tobacco, cameras, film), if not in excessive quantity, are admitted without formalities or tax. For other items, French regulations apply.
Currency and Banks
Legal tender is the French franc. The official exchange rate (in February 1995) was approximately 5F to the $1 U.S. The rate is subject to change due to currency fluctuation. Dollars are accepted everywhere and prices are often quoted in dollars.
Banks include Banque Française Commerciale (B.F.C.), rue du Général de Gaulle, Gustavia (Tel: 27.62.62), with a branch in St. Jean (Tel: 27.87.75), and the Banque Nationale de Paris (B.N.P.), rue de Bord de Mer, Gustavia (Tel: 27.63.70). Hours are generally Monday to Friday, 8 a.m. to noon and 2 to 3:30 p.m. Other banks in Gustavia are the Crédit Martiniquais (Tel: 27.86.57) and the Crédit Agricole (Tel: 27.89.90). Banks close on weekends, holidays and afternoons preceding holidays.
Electric Current
Voltage is 220 AC, 60 cycles. American-made appliances require French plug converters and transformers.
Telephone and Telex Communications
The area code for St. Barts in 590. To call from the U.S.: 011-590 plus St. Barts number for station-to-station; 01-590 plus St. Barts number for person- to- person. To call St. Barts from Dutch St. Maarten: dial 6 plus St. Barts six- digit number. To call St. Barts from other F.W.I. (Martinique, Guadeloupe and French St. Martin), dial direct.
To call the U.S., dial 19, wait for second tone, then dial 1, area code and number. (A one-minute call to U.S.: 12.85F.) For St. Maarten from St. Barts: 3 plus 5- digit St. Maarten number. For Martinique, Guadeloupe and French St. Martin, dial direct.
For local and international calls from public phones, the use of "Telecartes" can make connections easier and less expensive. The "Telecartes", which look like credit cards, can be purchased at the Gustavia, St. Jean and L'orient Post Offices and at the gas station near the airport. No coin-booths are on the island. The telex area code is 340. For villa renters whose phone is restricted to local calls, a world- wide phone service, Liaisons Mondiales, allows off- island calls by dialing 27.79.91.
Time Zone
There is one hour difference between St. Barts and the East Coast of the U.S. when Standard Time is in effect in the U.S. and Canada. Thus, when it is seven o'clock in s, it is only six o'clock in New York or Toronto. The island tells time the French way: 1 p.m., for example, is 13 hours, and midnight is 24 hours. [During daylight savings time, there is no difference in time between St. Bart and the east coast. The Civilized Explorer.]
Medical and Pharmaceutical Facilities
Gustavia has a hospital (Tel: 27.60.35), eight resident doctors, three dentists, one gynecologist, and specialists in ophthalmology, dermatology, etc. There are pharmacies at La Savane Commercial Center (Tel: 27.66.61) and in Gustavia (Tel: 27.61.82).
Post Offices and Mail
St. Barts has one Post Office with two branches. The main Post Office, on rue du Roi Oscar II in Gustavia, opens daily 8 a.m. to noon and 2 to 4 p.m., and closes on Wednesday and Saturday afternoons,. The branch is L'orient is open form 7 to 11 a.m. weekdays and from 8 to 10 a.m. on Saturday, The one at the St. Jean Commercial Center [called La Savane Commercial Center] across from the airport opens daily from 9 a.m. to noon and 3 to 5:30 p.m., as well as Wednesday and Saturday morning. All are closed on Sunday. Air mail stamps for postcards to the U.S. cost 3.10F; airmail stamps for letters to the U.S. (less than 20 grams) cost 3.90F.
Hotels in General
Like everything else on St. Barts, hotels are built to complement the island's size. There are no high- rises, and the largest hotel, the Guanahani, has only 76 rooms. Some places are constructed in standard beach- hotel fashion, some are actually groupings of chalets, bungalows, or cottages. There are also quite a few small family- run spots. For 1995, the island has approximately 41 hotels and a room count of 700. [Note well, this number may have changed because of the hurricane. The Civilized Explorer.] Most are moderate in price between mid- April and mid- December, and moderate to expensive in winter.. The style at all hotels is casual, quietly chic, relaxed, and intimate.
Villas
St. Barts has a very sizable number of villas, beach houses, and apartments for rent by week or month. Rental agencies include Ici & La, Tel: (590) 27.78.78 and Brook and Roger Lacour's long- established Sibarth Real Estate, Tel: (590) 27.62.38. Sibarth alone lists over 200 properties. For one week in winter, a one-bedroom, one- bath bungalow rents for US$1,200 to US$1,800 and a very luxurious four- bedroom villa with pool costs about US$4,500 to US$10,000. There are choices galore in between. Spring, summer, and fall rentals on many villas drop in price from 25% to 40%. Catered meals in a villa cost about US$40 per person; a cook charges approximately US$15 an hour.
What to Wear
St. Barts is very informal. Casual sportsclothes in cotton and other light fabrics are fine by day, as are jeans, T-shirts, etc. (Bathing suits are for the beach, pool, or yacht, but not for town.) At night, women usually "dress up" in whatever happens to be fashionable in resortwear. Ties and jackets are never required for men.
Shopping
St. Barts is a duty-free port; therefore, perfumes, crystal, silver, china, watches, imported jewelry, liquor, and tobacco sell at low, duty- free prices. There are definitely enough bargains to warrant setting aside time for shopping, particularly for top- quality "name" merchandise which costs a fortune back home.
Besides duty- free items, there is delicately executed straw work unique to st. Barts -- baskets, handbags, broadbrimmed hats for men and women, decorative mobiles -- braided and woven of lantana (or latania) palm by the women of Corossol and nearby Colombier who sell their wares on village streets. Other locally crafted products include sandals and shell jewelry sold in Gustavia, as well as paintings and lithographs by island artists.
Beauty lotions and suntan oils made from island plants and other natural materials also make unusual and interesting gifts. One line, called Produits M. is now produced and sold by Hervé Brin in Lorient (Tel: 27.82.63). A newer line is Belou's "P" (Parfums et Punchs), created by Hélène Muntal and Franck Garcia, a charming couple in Marigot (Tel: 27.85.45) who are also very in- demand therapists. Their line includes fabulous fragrant oils, each named for a different island beach, each beautifully bottled, and sold at the 'Ti Marché in Gustavia, across from the elegant Eolla Boutique. A delicious Belou's "P" rum punch made with local fruits and spices is served and sold at the Bar de l'Oubli in Gustavia. For wine lovers, La Cave in Marigot (Tel: 27.63.21) and La Cave du Port Franc in Gustavia (Tel: 27.65.27) carry fine French vintages stored in temperature- controlled "cellars." The latter spot also carries contemporary art and antique objets d'art. A new boutique for wines and spirits is Le Goût du Vin in Gustavia (Tel: 27.88.02).
Over the years, some very smart boutiques (i.e., Stéphane & Bernard, Hermès, Gucci, Polo, and Cartier) have opened in Gustavia, in St. Jean, or at La Savane Commercial Center opposite the airport. They carry haute couture, as well as French and Italian sportswear, lingerie, jewelry, etc. Chic mementos include canvas tote bags in off- white or olive green stamped Loulou's Marine, the nautical shop in Gustavia which sells them. As in most of France, stores are closed for lunch; many stay open until 7 p.m.
Nightlife
There are no casinos on St. Barts and there probably never will be. It's not that kind of island. There is no real movie house, but a number of hotels have film cassettes and videos. Sailors, boat hands, and young locals gather most evenings for dominoes and beer at Le Select, a favored hangout in Gustavia, or across the street at the Bar de l'Oubli. For an in- town nightcap and a romantic view, there's the luxurious Carl Gustaf overlooking the harbor. The town has quite a few special places that attract interesting dinner crowds, places like Au Port, L'Ananas, Eddy's Ghetto, Sapotillier, L'Escale, Le Clocher, Le Repaire, and Wall House, in addition to the Carl Gustaf and Maya's in nearby Public. Live jazz is sometimes on the menu at a couple of spots in winter.
Disco dancing is not unheard of, but it is limited. Le Petit Club in Gustavia, operated by Veronique Botte and Marc De Bono (and open nightly) is one possibility. The amusing cabaret shows at Club La Banane in Lorient pack the house, and there's good jazz at Topolino, a St. Jean restaurant. On holidays and weekends, town dances can be fun. For what's happening, get a copy of the lively, very "with it" St. Barth Magazine.
Year after year, the most memorable nighttime experience on St. Barts is still dining in the most leisurely of fashions. At Castelets, your after- dinner drink may be served with Bach in the background; at the Manapany with French or Italian ballads; at El Sereno and the Guanahani with the quiet sound of the surf; at François Plantation with a symphony of cicadas, and at Carl Gustaf's piano bar with a beautiful panorama of the harbor. Joining those stellar hotels is the 4- star deluxe Le Toiny, whose Le Gaïac is tops, especially at night, and the Christopher with its poolside L'Orchidée.
Dining
Dining has become a stellar attraction of St. Barts. Renowned chefs from France and the U.S. frequently visit the island, many of them open restaurants, and some even teach classes. Season after season, young chefs who have trained in France's greatest restaurants choose to work in St. Barts. Combining local ingredients with French and Italian traditions, they have made the island a gastronomic showcase.
Most restaurants are small but each offers something special in food, setting, or atmosphere. For 1995, there are about 65 of them. Some are beach cafes featuring lobster and grilled steaks, some specialize in seafood, and some, particularly in the elegant hotels, present cuisine of a very high order. Prices for three courses without wine range from modest (under US$30 per person) to moderate (US$30 to US$45) to expensive (US$60 and up).
Beaches
By official count, there are 14 beaches on St. Barts, all blessed with gleaming white sand. Few are ever crowded, even in peak season. All are public and free. Nudism is prohibited; topless is quite common. For beaches with hotels, restaurants, and water sports, Grand Cul de Sac on the northeast shore fits the bill, as does St. Jean, which is actually two beaches divided by the Eden Rock promontory. There is also a smattering of small hotels and restaurants at Flamands to the west, a classic stretch of white sand fringes with lantana palms. The beaches at Marigot and Lorient on the north shore are secluded and quiet, favored on Sundays by the island families. Gouverneur in the south offers total privacy; lovely Saline just east of it is everyone's favorite. Shell Beach can be reached on foot from Gustavia; Public, on the other side of town, is near the commercial pier, but still nice for a dip. Hardest to get to is Colombier, reachable by boat from Gustavia or by car as far as the village of Colombier, then by a half- hour hike down a scenic path.
Useful Publications
Bonjour St. Barth! is a French- English guidebook with good maps, fine illustrations, well- written stories about the island's history, traditions, etc., and practical ABC's. Georges Bourdin's History of St. Barthélemy is a more scholarly work, also in French and English, published by Porter Henry, long a part- time resident and publisher of Les Amis de St. Barth, a popular newsletter sent periodically to friends and subscribers. A new newsletter, "Letter from St. Barths" ("Le Courrier de St. Barths" in its French version) is published a few times a year and is available by contacting its publisher, Peter O'Keefe (Tel: (590) 27.66.74). Stanislas Defize's History of St. Barth is an illustrated volume in French and English issued by Editions Latanier, and Jeanne Audy- Rowland's Fils de Vikings is a charming account of the island, in French.
The Vendome Guide is an elegant, four- color publication which details villa rentals, describes hotels and restaurants, and covers a variety of island sports, etc. It is in English and for sale through Sibarth on the island or through WIMCO in Newport, R.I. Tropical St. Barth is an attractive four- color, magazine- size guide published in English and French, and available free of charge. St. Barth Magazine tells in both French and English "who's who," "who's where," "what's what," etc., and is distributed throughout the island. Le Journal de St- Barth is a free biweekly in French, with an occasional column in English, and Ti Gourmet is a useful illustrated guide, mostly about restaurants, and also free. Lastly, for visitors who can't do without radio news, there is a program in English at noon, Mondays and Thursdays, called "This Week in St. Barts."
---
We have additional information on getting to St. Barth, getting around on St. Barth, and getting additional information.
---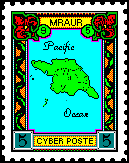 As always, if you have any objections, corrections, suggestions, or questions, drop us a line via Cyber Poste.
The Mraur Cyber Poste stamp is Copyright © 1995 by Jim Felter and is used with his kind permission. For more of his work, please drop by Jas' HomePage.

---
| The Civilized Explorer |

| Site Table of Contents | Portal |
| Help | Search the Site | Copyright, Privacy, and Warranty Information | About us |
---
Some of our pages are presented with light text on a dark background. This makes printing them difficult. If you wish to print a page with your default settings, see if the page has a link at the top called TEXT. If so, follow that link for a printable page.
Thanks for stopping by. Copyright © 1995, 1996, 1997, 1998, 1999, 2000, 2001, 2002, 2003, 2004, 2005, 2006, 2007 The Civilized Explorer. ALL RIGHTS RESERVED.
---