[SiteTOC]

La Louisane Restaurant, Guadeloupe
THIS RESTAURANT HAS CLOSED. THE PAGE IS LEFT TO KEEP LINKS FROM BREAKING.
La Louisiane Restaurant is a wonderful Creole style centenary house located in the heights of Saint- François.
Véronique and Didier will give you a warm and cheerful welcome amongst a gently breezed and tropical surroundings.
Serving hours are 12:00 to 14:00 and 19:00 to 22:30.
La Louisiane's specialities are:
Grilled fresh lobster with its Creole sauce
Chicken rolls stuffed with Conch, in a fresh herbs sauce
Sautéed Daurade fish with passion fruits
Fresh fish and seafood in banana leaf parcels cooked in a five spice steam
Sirloin steak with mangoes
Peanut ice-cream fritters
Nougat ice-cream with ginger and pineapple glacé
This information was provided by Véronique and Didier and has been reproduced here exactly as they wanted it. Our review of La Louisiane may be seen at Dining on Guadeloupe 1998. If you have visited La Louisiane prior to January of 1998, please be aware that Véronique and Didier are new owners.
For reservations, 88.44.34; fax 88.88.69.
---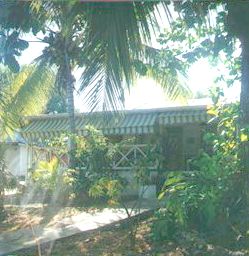 ---
La Louisiane
Une merveilleuse case créole centenaire située dans les hauts de Sainte- François.
Cadre original, verdoyant et bien ventilé.
Véronique et Didier vous accueillent dans une ambiance conviviale.
Heures de service : 12 :00 à 14 :00 heures et 19 :00 à 22 :30 heures.
Spécialités :
Langouste du vivier sauce créole
Saucisson de poulet aux lambis, crème d'herbes
Poêlée de daurade aux fruits de la passion
Papillotes de poisson et crustacés en vapeur de banane aux cinq épices
Tournedos de boeuf à la mangue
Beignets de glace cacahuète
Nougat glacé à l'ananas et gingembre confit
Naturally, the menu is subject to change without notice.
Copyright © 1998 The Civilized Explorer. ALL RIGHTS RESERVED.