[Site TOC]
The Civilized Explorer Travel Assistance Page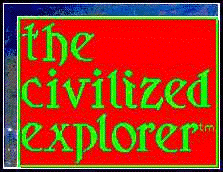 While we never like to think about problems hitting us while we are on the road, it sometimes happens. The Civilized Explorer Assistance Page provides you with a helpful guide to getting help. This page is aimed primarily at getting some assistance in the U.S. Note: Although we provide telephone numbers here, be aware that they are subject to change without notice. It would be safe to confirm some of these numbers before you need them in an emergency.

While we never expect to have problems on vacation, they do arise. And if they arise while you're in a foreign country, different languages and laws are serious problems. Before you go, please read both the U.S. State Department and the British Travel Advisories and the U.S. Consular Information Sheets for the country you plan to visit. While the US and the UK are often allied, never forget that their interests are not always the same. For example, are you thinking of going to Florida? 800,000 British tourists do every year -- The UK has a travel advisory. For additional perspectives on the world's trouble spots, see the travel advisories from the governments of Canada and Australia.
Both the U.S. and U.K. advisories give consular telephone numbers. If the country you are visiting does not have a consul from one country, it may have the other's, so check both travel advisories. We also strongly recommend that you read "What We Can Do to Help," paying particular attention to the index of links on the left side of that page. Although this is aimed at British subjects, the information is applicable to all travellers in foreign countries -- your consulate is available to help you, but the aid it can provide is limited by the laws of the foreign country. The advice given is very good. While you probably will not get into trouble in a foreign land, this page has information you should know.
Travelers' Health is for international travelers, giving reference material for international travel, geographic health recommendations, disease outbreaks, and links for additional information. If you are going somewhere in the world where health is an issue, this is an excellent site. It gives vaccination requirements, outbreaks of diseases in various locations, and descriptions of the symptoms of diseases one might contract in out- of- the- way locations. Especially recommended for those adventurers in exotic locales where disease without adequate treatment may be life- threatening. Also drop by the page on Health-Related Hoaxes and Rumors when you start getting scary emails about poisoned consumer products, infected snail mail, and tainted soft drinks.

MDtravelhealth offers information on various countries and what health issues may have arisen there. For many countries, the site offers locations of health facilities, analysis of the quality of the care available, and special needs advice.
A note about telephone numbers in the U.S.
We list telephone numbers as, for example, (800) 555-1212, a convention which arose in the days of Bell Telephone as the provider of telephone services in the U.S. The number in parentheses is an area code. Area codes are not required for local calls; dial only the seven digits (for example, 5551212). If an area code is required, then dial 1 plus the numbers given, disregarding the parentheses and the dash. For example, to call a number given as (800) 555-1212, you would actually dial 18005551212. The grouping of the numbers using parentheses and dashes is for ease in remembering the number. Note that for toll- free numbers, the area code is required.

Reporting lost credit cards
Making long distance telephone calls
In the United States, the one- time monopoly of the telephone company has been ended, and there are now several companies which may be used for long distance calls. These numbers are toll- free for the carriers given and will connect you to the service. You need to have a means of paying for a call through that carrier; arrangements should be made before you need to make that call.

Finding lodging for the night
Renting an automobile
Making domestic airline reservations
Getting a package delivered
Additional Resources on The Civilized Explorer
The Civilized Explorer has additional Web pages which travellers in the U.S. may find helpful. We provide links and a brief description in the following list.

Travelers Aid International has a Web site with emergency aid information for major U.S. and Puerto Rican cities.