[Site TOC] [Burning Man]
---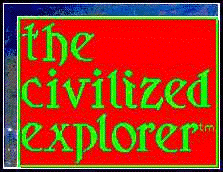 The Civilized Explorer
Adventure Kits
---



While we never expect adventures to go wrong, all too often they do. If you are adventuring in wilderness areas or other locales where medical transportation will be delayed or prolonged, you need to consider an adventure kit, containing not just bandages and aspirin, but your own training for first aid and stabilization, and a resource for medical evacuation. This page provides Web resources for medical kits, medical evacuation, travel warnings for civilized explorers in sometimes less than civilized locations, and courses in first aid.

Please keep this in mind: If you buy a kit, you can open it up and admire the special scissors, look at all the adhesive bandages, sniff the antiseptic swabs, and still not have a clue what to do with it all. Having a first aid kit is just one step in having an adventure kit. If you do not know what to do, having a kit is of no use.

| First aid kits, gear, and supplies | Medical insurance, trip insurance, evacuation | War, health and disease reports | Training | Taking a break |

Okay, so you bought a first aid kit from a catalog. It has a snake bite kit, 4 x 4 gauze pads, a roll of adhesive tape, and a first aid manual, all in a convenient ripstop nylon carrying case with a belt loop so you have easy access. Meanwhile, your ankle is swelling visibly, turning red, and it hurts so bad you cannot stand it. There is no way you will get your ski boot back on that foot. Does your kit have the right stuff?

Okay, so you were standing on the roof of your rental truck surveying the playa at Black Rock City with all your best buddies, and Chris stepped back to take your picture -- right off the roof. She fell flat onto her back with a big WHOOMP! You all scrambled down, and she was laying there twitching, out cold, with this stuff running out of her ears. Both eyes were open, but one had a lot more pupil showing than the other. Now what? Do you pack up the truck and drive her two and a half hours back to Reno or do you call in REMSA?

We list medevac sites below, but note: If they have jets, they are not coming in to the playa at Burning Man. Most air evacuation services presume a transfer from hospital to airport for evacuation -- paved runways, refueling services. An airport. Even if the service will send in a chopper to airlift your buddy out of some God forsaken patch of nowhere, you have to call for them and tell them where you are.

We also list sites for travel insurance, but be sure to review their coverage carefully. Some policies will cover delays or cancellations due to acts of terrorism in a country on your itinerary; if an act of terrorism gives you the jitters but did not happen in a country on your trip, you may not be covered if you cancel. Note also that none of the policies we have seen cover cancellation due to war, declared or undeclared. Be sure to review the sites we list for war, health, and disease reports.

Okay, so you finally got your visit to Alice Springs, and it was nothing like you had imagined from the book. You figure you had a bad night's sleep because your neck is stiff, you have a horrible headache, and you think you may throw up. Maybe it's the flu. You have mosquito bites, so maybe it's malaria -- or is that from tsetse flies? Can you get malaria in Australia? You sing "You can get anything you want in ... " Alice Springs? That doesn't make any sense. You're really really confused.

Okay, so you have started off on a rocky trail on the side of a mountain early in the morning with Pat. Pat is leading the way, and you suddenly hear crunching and sliding and a "whoop!" from Pat. You run to the place you last saw him and look over the side of the mountain. Ten or fifteen feet down, you see him in a pile of rocks. Scrambling down, you assess the situation. Pat is conscious, there is a gash on his shin which is bleeding but not pumping blood, and something white and pointy is sticking out of the wound. Pat is laying on his side on a rock, and he complains in a whisper that it hurts really really bad to breathe. You just bought a first aid kit, so you climb back up to your pack and get it out. It even has a manual. You find the page on cuts, and you ask Pat to hold the book, but no response. He is sweating profusely, pale, gasping for breath, with a blotchy face. Sheesh! Now who is going to read you the instructions while you do first aid on the cut?