[Site TOC] [Martinique Table of Contents]
---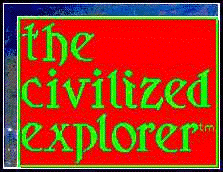 The Civilized Explorer
Martinique Links
This page provides links to the websites of individual hotels, car rental companies, and other tourist businesses that we have found for Martinique. We do have personal experience with some, but not all of these businesses. These are provided for your research.
We also provide links to Martinique information on our Magnolia link roll.
---
Some places are listed more than once; there are difference Web sites which have different information on those places. We recommend visiting all sites.

[Accomodations] [Boating] [Car Rentals] [Distilleries] [Places to Visit] [Ferries] [Planes & Helicopters] [SCUBA Diving] [Travel Agents, Tour Operators, Tourism] [Magnolia links]
Anse a L'Ane

Anse D'Arlets

Domaine de Robinson at Anse Noire a beautiful, secluded cove. The owners are a delight and quite hospitable. Claude Robinson is a clever woodworker.

Anse Mitan (Trois Islets)

Basse Pointe

Carbet

Case Pilote

Diamant

Fort de France

Francois

Gros Morne

Lorrain

Marigot

Marin

Pointe du Bout (Trois Islets)

Presque Ile de la Caravelle (Caravelle Peninsula)

Riviere Saleé

Saint-Francois

Saint-Pierre

Sainte-Anne

Sainte-Luce

Sainte-Marie

Schoelcher

Tartane/Trinite

Trois Islets

Vauclin

Island-wide listings
L'Express to Les Saintes, St. Lucie, Dominique, and Guadeloupe
Heliblue helicopter rides in Pointe du Bout
---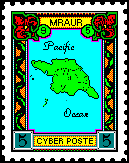 As always, if you have any objections, corrections, suggestions, or questions, drop us a line via Cyber Poste.
The Mraur Cyber Poste stamp is Copyright © 1995 by Jim Felter and is used with his kind permission. For more of his work, please drop by Jas' HomePage.

---
Copyright © 2002-2007 The Civilized Explorer. ALL RIGHTS RESERVED. NOTE: We use small GIF images on these pages. Larger JPGs are available in thousands and millions of colors from the Photo Pages.
| The French West Indies | The Civilized Explorer | Table of Contents | Search the Site |
---